Just a while ago, we talked about baking chicken drumsticks in the oven. But do you know how to bake chicken thighs in the oven?
If not, now we'll talk about making the thigh. You're convinced now that we can bake those thighs in the oven, right? Of course, they'll come out very sumptuous.
Plus, there are a lot of recipes that you can choose from, you'll hardly ever go wrong. Did I forget to say your family, friends, and guests will be top of the world grateful for the best meal experience? Yeah, put on that apron and let's walk down this cooking aisle.
What You Should Know About Baking the Best Chicken Thighs
If you love your chicken juicy, crispy and sumptuous, cook chicken thighs. Hey, don't get this wrong. Other chicken parts work wonderful, but you just went looking for chicken thighs at your best restaurant. Now that we agree, you can go through this recipe box dutifully.
The cook time for chicken thighs differs from that of drumsticks and chicken breasts. Even bone-in chicken will cook within a different duration from boneless thighs. Still, you need to make sure your chicken is dry by patting it through with clean kitchen towels or paper towels.
Depending on the recipe you choose, you will need to marinade the chicken thighs with some cooking oil to ensure that it crisps properly when you are done baking it. Remember to coat every part of the chicken thigh because you want every bite to leave a luscious taste in the mouth of your diners.
Cover your baking pan with aluminum foil so that it can hold the chicken juices as they drip from the chicken thighs. An alternative to the foil is parchment paper. If you don't contain the juice, it'll end up soiling the entire oven and complicating your cleaning process.
Just know that if you use parchment paper for baking the chicken, you can't use it to broil. Also, if you're baking with the skin, some recipes will require you not to turn the chicken thighs on the other side until it is properly cooked. This will allow the skin crisp very well through the baking process. One other essential thing to do is to watch those thighs cook.
Checking Your Chicken Thigh for Doneness
Using a Meat Thermometer to check the doneness of your chicken thigh is the best way to make sure you don't go wrong. Stick your thermometer into the part of the chicken that has the most meat and read the temperature shown. If the temperature is anywhere between 165 degrees F and 175 degrees F then the meat is ready for consumption.
So, what if you don't have a thermometer? You can observe a few behaviors in the chicken as it cooks. One is the size; another is the color of the meat and the juices.
When the meat is ready, the thighs will be smaller than they were before you put them in the oven. Again, the color of the juices will be white, not pinkish. A pinkish juice shows that your chicken thighs still have a few minutes to go.
Insert a fork or skewer in the meatiest part of those thighs and check the color of the dripping juices. Or use your knife to cut into the thick end and check the color.
You can already tell that manually checking for doneness is a difficult walk in the park. Not to mention that it is greatly flawed since the chicken may be slightly pinkish on the inside and still be done – especially, around the bones.
So, invest in those thermometers so you can save yourself the time and flaws.
What's the Time Range to Bake Your Chicken Thighs?
The time will depend slightly on if you are cooking boneless skinless chicken thighs or if you are cooking bone-in skin-on chicken thighs. The difference may lie within 10 to 15 minutes.
35 – 45 minutes 425 degrees F
40 – 45 minutes 400 degrees F
45 – 50 minutes 375 degrees F
50 – 55 minutes 350 degrees F
Now, to those ravishing recipes.
Lovely Crumbly Baked Chicken Thighs Recipe
This baked chicken thigh recipe needs bone-in skin-on thighs to get the finest bake. The meal will be ready in about 50 minutes from your prep time, so you don't have to keep anyone waiting too long for dinner to be ready.
If you set your oven to a temperature of 400 degrees F, those chicken skin will come out amazingly crumbly. If you don't want them so crusty (who wouldn't want it?), you can reduce the temperature of your oven a little – maybe 375 degrees – but the meat might also take longer to cook.
Get yourself a baking pan with edges to keep the juices from the chicken in. And make sure you pat those thighs dry before you season so that the moisture on the skin does not hinder them from searing properly. When those thighs are ready, you'll find that the back is as crumbly as the inside is soft and flavorful.
What You Need
Bone-in, Skin-on Chicken thighs 8 pieces
Black pepper 1 tsp
Onion powder 2 tsp
Kosher salt 2.5 tsp
Paprika 1 tsp
Garlic powder 2 tsp
Olive oil 2 tbsp
Dry herbs (basil, thyme, rosemary. oregano) half a tsp each
Time Estimates
Preparation Time 10 minutes
Cooking Time 35 – 45 minutes
What You Should Do
First Thing
Set your chicken thighs on the cooking table and soak up excess moisture with your kitchen towels. Spread your olive oil over the pieces and rub it in properly. Line the baking pan with aluminum foil and place the thighs on it with some space between.
Next Thing to Do
Set your oven to heat at 400 degrees. Take a slightly spacious dish and combine your seasoning and herbs. Put in your basil, thyme, rosemary, oregano, paprika, kosher salt, black pepper, onion powder, and garlic powder. Combine them very well and spread over the chicken thighs. Make sure every corner is seasoned well.
After That
Put the thighs in the oven that is already heated. Allow them to bake for 35 minutes then check for doneness. Insert your thermometer, and if it reads 165 degrees or more, the chicken thighs are ready. If not, put them back and bake for another 5 to 10 minutes.
When your chicken is ready, get them out and allow them to cool for a few minutes. Then serve with your favorite dish.
Check out these articles…
Crusty Parmesan Baked Chicken Thighs Recipe
If you love the distinct flavor that parmesan cheese brings to the kitchen, then this recipe of chicken thighs is one you should consider. You'll soon notice how the garlic flavor that combines with parmesan cheese fills your kitchen with a luxuriant smell that'll cause tummies to rumble in anticipation of this goodness. It'll take you approximately 50 minutes to replicate this recipe and serve dinner.
The chicken part you need here is boneless skinless chicken thighs. You'll bake the chicken thighs at two temperatures. When they are fully cooked at 375 degrees F, you then set the oven to broil for a few minutes to enable them to crust over. So, get to work and you'll be done in no time.
What You Need
Boneless Skinless Chicken Thighs 8 pieces
Italian seasoning 1 tsp
Garlic powder 2 tsp
Breadcrumbs (plain) 1 cup
Grated parmesan cheese 3/4 cup
Olive oil 2 tbsp
Black pepper
Salt
Time Estimates
Preparation Time 15 mins
Cooking Time 30 mins
What You Should Do
First Thing
Prepare your seasoning in two dishes. Put the olive oil in one dish and set it aside till you are ready to use it (keep some oil for your baking sheet). Then take the second dish and mix your parmesan cheese, breadcrumbs, garlic powder, and Italian seasoning in it. Also, set up your baking pan by lining it with a foil and oiling the foil lightly.
Next Step
Heat up your oven to 375 degrees F.
Rub the chicken with enough pepper and salt, the way you like it. Just don't let them become too much. Then put the salted thighs in your dish that has oil, one after the other. Next, put them in the mixture that has breadcrumbs and parmesan cheese one by one. Carefully put each dredged piece on the baking pan.
When you've placed them all on the pan…
Put the baking pan in your preheated oven and allow the chicken thighs to bake for 30 mins. Stick in your thermometer to check for doneness at 165 degrees F. If your thermometer reads less, let the chicken bake a while longer.
When they are done, turn on your broiler and let those broil for 2 – 3 minutes. Your parmesan cheese should be brown when they are ready. Bring out the chicken thighs and allow them to cool down slightly before you serve the way you want it.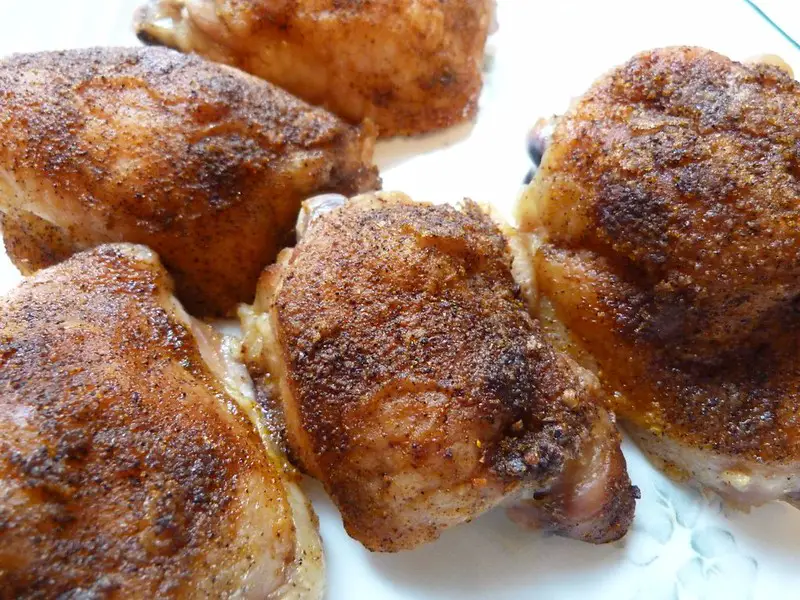 Crispy Oven Baked Chicken Thighs Recipe
This recipe combines honey and Dijon Mustard to bring you a delectable chicken meal that'll leave you in awe. How about you give the chefs a run for their expertise?
You will need some bone-in, skin-on chicken thighs for this recipe. Three dishes or small bowls are all you need to get the seasonings ready. You bake with one temperature and the chicken will be done in about 40 – 45 mins, total time. Get serving, everyone is famished.
What You Need
Bone-in, skin-on chicken thighs 6 pcs
Minced garlic 6 bulbs
Honey 2 tablespoons
Dijon Mustard (whole grain) 2 tablespoons
Red pepper flakes 1/4 teaspoon
Black pepper
Salt
Time Estimates
Preparation Time 5 minutes
Cooking Time 35 minutes
What You Should Do
First Thing
Get the baking pan ready. Line the pan with a foil or parchment paper. Then pat your chicken dry with a kitchen towel and set them out in a bowl on your cooking table. Rub the chicken with black pepper and salt before putting them in the baking pan. Make sure you leave some space between them.
Next Thing
Set up your oven to heat at 425 degrees F. Then make the sauce for glazing the chicken thighs.
Take an empty bowl and combine the rest of your seasoning – garlic, red pepper flakes, olive oil, dijon mustard, and honey. Whisk them properly before putting the sauce on the chicken thighs. Dip the thighs into the sauce one after the other to make sure every corner of those thighs is properly covered.
When you glaze the chicken thighs…
Put each chicken thigh back in the pan after glazing it. Pour whatever is left of the sauce over the chicken in the pan. Put the pan in the hot oven to bake for 30 to 35 minutes, then check for doneness. The chicken is ready at 165 degrees F. The skin should also crisp within this time.
Remove the chicken thighs when they are ready. Allow to cool a little, then serve accordingly.
You can store this chicken in the freezer for months (up to 3 months) if you put them in an airtight container.
Video: How to bake chicken thighs in the oven
Watch this video to see how to bake chicken thighs in the oven
Lemon Flavored Oven Baked Chicken Thighs Recipe
You need bone-in, skin-on chicken thighs for this recipe. You'll have to marinate the chicken for 15 mins using a ziplock bag to let the flavors sink into the thighs. The sauce that comes from this recipe is so good, you'll almost take a sip. Everyone will definitely be waiting for you to get done.
What You Need
Bone-in, skin-on chicken thighs 8 pieces
Kalamata olives 0.5 cup
Grape tomatoes 0.5 cup
Fresh Lemon juice 1/4 cup
Olive oil 1/4 cup
Plain yogurt 2 tbsp
Dried oregano 2 tsp
Diced Feta cheese 4 ounces
Minced garlic 4 bulbs
Black pepper 1/4 tsp
Salt
Time Estimates
Preparation Time 10 mins
Marination Time 15 mins (at least)
Cooking time 35 mins
What to Do
First Thing
Pat the chicken thighs dry from the body moisture and salt slightly. Then set them aside.
Take your ziplock bag and put the marinating ingredients in it. Put in your olive oil, oregano, black pepper, lemon juice, yogurt, garlic and salt (1 tsp). Mix them properly. Then put your chicken thighs in the mixture and leave to sit for 15 minutes at least.
Next Thing
Set your oven to heat at 375 degrees F. Set out your baking pan and put the marinated chicken thighs in them. Pour the remaining marinade on the thighs and put the pan in the oven. Leave the thighs for 20 mins in the oven then get out the baking pan
This is what follows after…
Put those Kalamata olives, Feta cheese, and tomatoes on the thighs. Place the pan back in the oven and leave them for 15 minutes again. Check for doneness at 165 degrees F. The chicken thighs should be golden brown when properly cooked.
Remove the ready chicken from the oven and allow them to cool slightly. Serve the way you love it.
Soy Sauce Oven Baked Chicken Thighs
This awesome soy sauce recipe combines with honey to evoke a lush taste from your buds. You need boneless skinless chicken thighs that you will bake at two different temperatures. You will also marinate the chicken with soy sauce mixture to infuse the soy flavor into them. You'll love the results that you get from this kitchen exercise.
What You Need
Boneless skinless chicken thighs 7 pieces
Fresh ginger (minced) 3/4 tsp
Minced garlic 4 bulbs
Canola oil 2 tbsp
Green onions (finely chopped) 1/4 cup
Soy sauce (low sodium) 1/4 cup
Honey 1/3 cup
Fresh parsley (chopped)
Pepper and Salt
Time Estimates
Preparation Time 10 mins
Cooking Time 25 mins
What to Do
First Thing
Take a medium-sized dish and mix your marinating sauce. Mix in soy sauce, canola oil, honey, green onions, ginger, and garlic. Keep it aside when they are properly combined.
Next Thing
Set out your chicken thighs and dry out excess moisture with paper towels. Rub in pepper and salt as much you want before you put the thighs in the marinating sauce. Leave the chicken thighs to marinate for 30 minutes and you are ready to bake. You can allow the marination for longer if you prefer.
After the Marination
Set your oven to heat up at 425 degrees F while you set the marinated chicken thighs on your baking pan. You can leave lining the pan if it's not convenient. Otherwise, use a foil to line your pan before placing the chicken thighs.
Put the pan in the hot oven and allow it to bake for 20 minutes. Flip the chicken after 10 minutes to get evenly baked chicken thighs. When the chicken is done at 165 degrees F, turn on your broiler for 3 – 5 minutes. The chicken should be golden brown when you bring it out.
Put your parsley on the chicken thighs for garnishing and serve with your preferred dish.
Reheating Leftover Chicken Thighs
You can always reheat leftover chicken in the oven without allowing it to dry out. You'll need your baking sheet lined with a foil and your oven set to 325 degrees F. However, you can only reheat chicken once after the first baking.
Rub a little oil on the leftover chicken then set it on the foil. Cover the chicken thigh over with the foil then place the baking sheet in the oven. Bake for 5 minutes or until the temperature inside the thigh is at 165 degrees F. Take it out and enjoy however you want it.
Have a fabulous mealtime with any of these recipes!