Are you here to learn how to cook Italian sausage in oven? If so, you're in the right place.
But what's your preference for Italian sausage – hot or mild? There's really no difference except that hot Italian sausage has more chili pepper than others. They are American-style sausage that is made from ingredients that include pork fat, fennel seeds or anise, pepper, salt, chili pepper, pork that is chopped in thin bits, and nitrates.
Italian sausage is made into a tube of meat that has a thin cover keeping it together. The sausage links are about 6 inches long and have delicious flavor locked into it.
Often, when people go to buy this sausage, they are between buying hot sausage or mild sausage. That shouldn't be a difficult decision to make if you know your tolerance for pepper. Buy mild sausage if you don't like having a lot of chili pepper in yours. Buy hot sausage if you prefer the pepper. If you have to make one choice, pick mild Italian sausage. You can always tweak it to your taste of hotness.
Italian sausage can be prepared and eaten by itself. You can also make it into many appetizing dishes. Add it to your pasta, pizza, or make it into a sandwich. Get creative with the recipes that spark up your taste buds when cooking your Italian sausage in the oven.
The internal temperature of a well-cooked Italian sausage is 160 degrees F. It's always best to cook it on regulated heat so that the inner part can cook properly before the case turns golden brown. High heat will cause the sausage to char before the inside gets a chance to heat up very well. When cooking it in the oven, there's no need to preheat the oven. Let the oven and the Italian sausage warm up together. This ensures that you have a well-cooked sausage at the oven time. Use your instant-read meat thermometer to check the internal temperature of the cooked sausage.
Basic Baked Italian Sausage
You don't need any special ingredients to bake your Italian sausages. They are all you need by themselves. You can bake them fresh or frozen. Layer your baking sheet with aluminum foil or parchment paper before placing your sausages. The foil helps to collect extra grease from the links so you don't have to clean your oven after every meal preparation.
Put the baking sheet in the oven and turn it up to 400 degrees F. Let the sausage bake for at least 20 mins then check for doneness. Remove the sausage when it's 160 degrees on the inside. If you're baking frozen sausages, they're likely to stick together. To separate them, bring them out of the oven after 5 mins and break up the ties. Return to the oven and complete the process. Frozen sausages need extra time to bake.
An easy dish to serve with these Italian sausages is vegetables or baked potatoes. That's because you can cook them together in the oven at the same time. Serve them hot and have a good meal. This recipe comes handy when you are busy but you need some good meal. Keeping some packages of sausage in your freezer regularly can be a lifesaver on many nights or days.
Peppered Baked Italian Sausage
If you love really hot sausages, then use hot Italian sausage for this recipe. Otherwise, use mild ones. They come out looking slick and inviting. You can easily eat these alone or pair them with baked sweet potatoes. Served as breakfast or dinner, even the children will be delighted to be at the dining table.
What You Need
8 sausage links
2 red peppers (sliced bells)
2 green peppers (sliced bells)
1 tsp of oregano (dried)
1 tsp of basil (dried)
1 sliced onion
1/2 tsp of black pepper
1/2 tsp of salt
1/4 cup of olive oil
Time Estimate
Preparation time 5 mins
Cooking time 20 mins
What to Do
Get your baking pan and line it with a foil. Set the onions, bell peppers, sausage (cut) in the middle of the tray and sprinkle the oil, black pepper, salt, oregano, and basil over them. Roll them over until they are properly mixed together before setting the sausages in a file separated from each other.
Turn on your oven to 400 degrees F and place the pan in it. Bake the sausages for 10 mins, bring them out and flip over with a fork. Place them in the oven again for another 10 mins. Check if the meat inside has reached 160 degrees F then remove the pan. They should be properly browned when you bring them out.
Check out these articles…
Video: How to Cook Italian Sausage in Oven
Preparing Italian sausage in the oven with bell peppers and sweet potatoes
Side Dish: Baked Sweet Potatoes
This baked sweet potato recipe takes about an hour to get them ready. You may want to bake them after the sausages because your oven will already be preheated. Adjust the temperature to suit the potatoes. Cut the potatoes in 1/2-inch thick slices and rub them over with maple syrup and olive oil. They are delicious and nutritious. Suitable for people on carbs diet as well.
What You Need
4 potatoes (cut in circles)
2 tbsp of maple syrup
2 tbsp of olive oil
Time Estimate
Preparation Time 15 mins
Cooking Time 50 mins
What to Do
Adjust the oven to heat at 425 degrees F. Set your baking sheet, line it with parchment paper and keep it aside. You'll need it soon.
If you haven't already washed and cut your potatoes, do so now. Dry them up with kitchen towels and place them on a kitchen tray. Brush each slice with olive oil and maple syrup and put it in the baking sheet. Make sure every part of each slice is totally covered in oil and syrup. Place the slices in layers on the sheet.
Place the baking sheet in the oven and bake for about 50 mins. The potatoes are ready when they tender and flaky inside while the back is properly browned.
Food is ready. Serve the clan!
Baked Italian Sausage with Glazing
If you want your sausage as an appetizer rather than with the main dish, this recipe fits the right there. Glaze your sausage links with apricot jam and Dijon mustard and you won't be letting go until you've had the last bite. Served with grapes and crackers, you can eat these while reading a book or bingeing on a movie. They are also easy to make so you have every reason to try out this recipe and to come to it every time.
What You Need
4 sausages
2 tbsp of brown sugar
3 tbsp of Dijon Mustard
1/2 cup of apricot jam
Time Estimate
Preparation Time 10 mins
Cooking time 40 mins
What to Do
Begin with cutting the Italian sausages into near circles. Cut each slice all the way through till there's just a thin bottom layer holding them all in one piece. (Think, accordion-style cuts). Each slice should be about 1/8-inch the ick. Set them on your baking sheet that is already lined with parchment paper. Set it aside to prepare your glaze.
Get a small deep dish (preferably glass) for your glaze. Combine your Dijon mustard, brown sugar, and apricot jam in it. Brush this glaze all over the sausage. Carefully get in as much glaze as you can between the spaces. If your brush is too much for the spaces, use a spoon. Keep whatever is left of the glaze, you'll need it when the sausage has baked a few minutes. That's because the spaces in the sausage slices will open more when it begins to bake so you can get more glaze in.
Turn your oven heat to 325 degrees F and put in the sausages. Bake them for about 15 mins, bring them out and glaze the inner parts properly. Replace the baking sheet in the oven for another 15 to 20 mins. Check the internal temperature with your meat thermometer. The sausage is ready at 160 degrees F.
Serve the baked glazed Italian sausages when they're still warm with crackers and grapes for the best experience. You can also eat them alone if you prefer. They taste just as great.
Some people may want to serve these along with a main dish. That's totally alright. Tweak the recipe to meet the desires of your taste buds.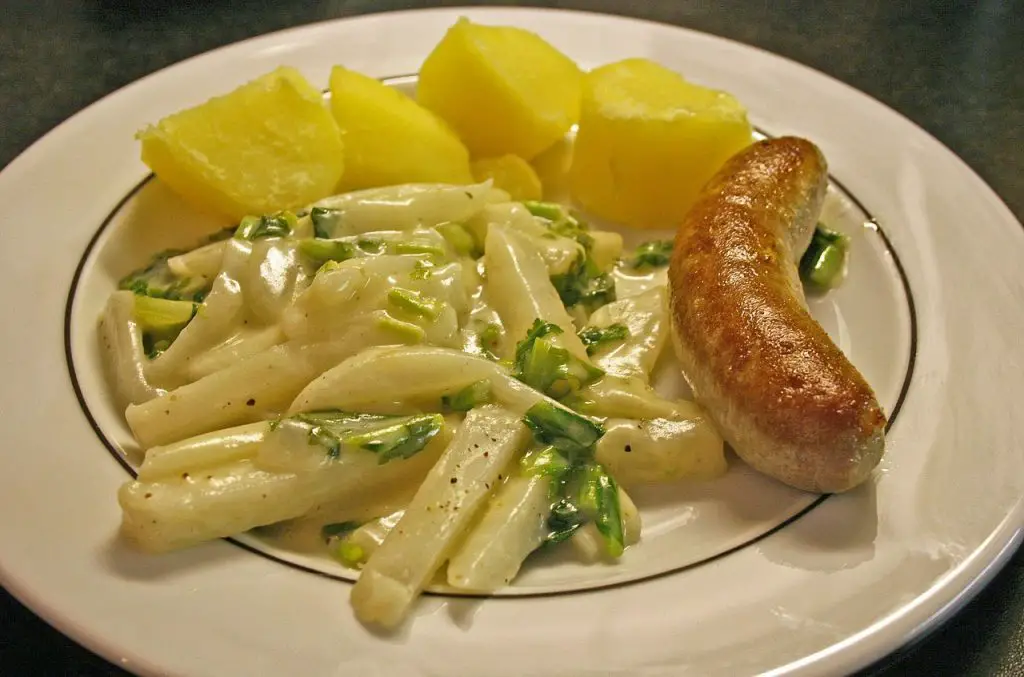 Baked Potatoes and Italian Sausage Recipe
We're on about combining baked potatoes and Italian sausages here today. I hope you enjoy these meals, possibly leave a comment in the section below.
In this recipe, we're cooking the potatoes and Italian sausages in one sheet. There are some advantages to this. One of them being that both food types share their flavor with each other. When cooked well, this will unlock several exciting buds in your taste system. And it's sure easy to prepare.
You need your potatoes cut in 1-inch size before placing them on the sheet. The sausages will cook in a preheated oven with the potatoes. The ingredients are easy to pick from your kitchen. And clean up is just a breeze. This is the perfect recipe for lazy dinner nights.
What You Need
5 links of Italian sausages
1 tsp of Italian herb seasoning
1 tsp of salt
1 tsp of ground black pepper
1 red pepper bell (sliced)
6 potatoes
Time Estimate
Preparation Time 10 mins
Cooking Time 40 mins
What to Do
First, prepare your baking sheet with lined parchment paper and set it aside. It's time to get the potatoes ready. Wash off soils on the skin of the potatoes and peel the skin off. Now, cut them into pieces of 1 inch each. This will allow them to get ready in good time. Put the potatoes in the baking sheet.
Set your oven to preheat at 425 degrees F. Then spice the potatoes with the pepper, Italian seasoning, and salt. Place the Italian sausage links inside the sheet, between the cut potatoes. Top with your red pepper bells and place the sheet in the oven.
Let the potatoes and sausages bake for about 40 mins. The internal temperature of the sausages should be 160 degrees and the potatoes should be soft when you pierce it with a fork. Your food is ready to be served.
Have a warm, flavorful dinner!
Sign Off
Why do you have to insist on your Italian sausages heating up to 160 degrees? It's because they are made from pork which can contain roundworm in its raw form. This can cause you a number of health problems including diarrhea and fever.
Pork has an exciting flavor that makes it a desired choice of meat in America. There are several dishes you can introduce your Italian sausage into. Baked beans, coleslaw, potato salad, and grilled vegetables. You don't always have to use the sausages as links. You can dice them up into whatever sizes you want.
If you're pairing it with coleslaw, for example, it's best to dice it up. This way the tiny sausages can fully integrate into the coleslaw to enhance the flavor in every bite. It's a lot more interesting than having to deal with a huge chunk of pork while having a fill of tiny veggies on the side.
Explore the world of baked Italian sausage and have a flavorful day.