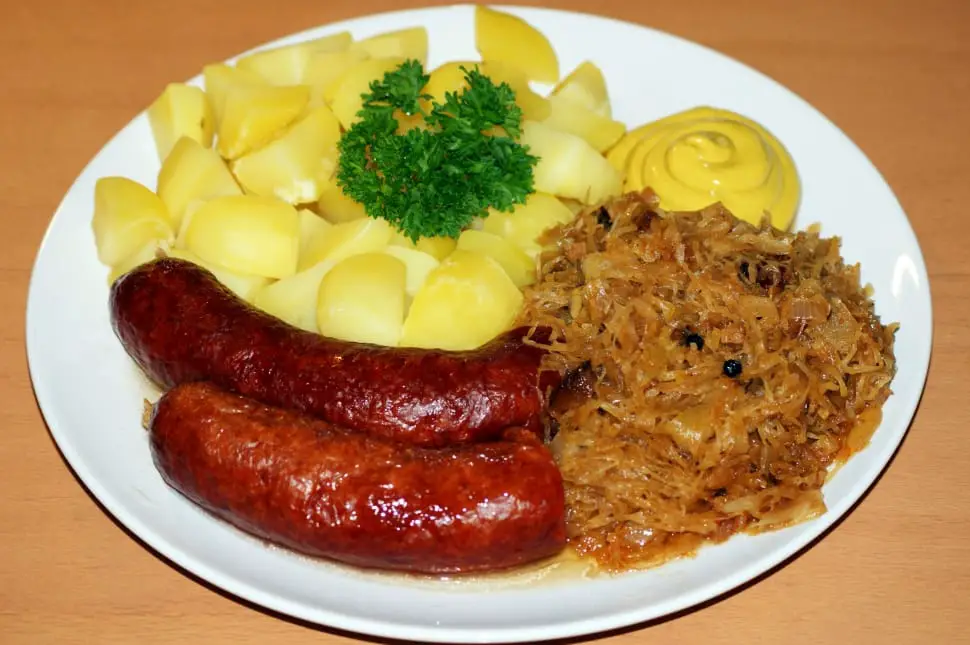 If you are looking for a place to learn how to cook Kielbasa in the oven, you've come to the right spot. So…
Everyone enjoys a good dish of sausage, including baked Italian sausages. Kielbasa (baked, cooked, or grilled) is another sausage darling that has made its way from the traditional polish kitchen into the modern American's heart. It is made from grinding pork, spicing it with garlic + marjoram, then stuffing the spiced ground meat into casing. The casing may be bioengineered or natural (e.g. Intestine).
The spicy nature of the kielbasa distinguishes it from other sausages. Just like regular sausage as well, some types of kielbasa may be edible from the point of preparation. This is the dried kielbasa. Biala (also called white kielbasa) and Zwyczajna (or the regular kielbasa) should be cooked or baked before consuming. The ideal internal temperature for a well-cooked kielbasa is 160 degrees F.
Kielbasa can be found, made from other kinds of meat other than pork. It can be made from Turkey, beef, or a variety of meat. Served with great dishes such as potato dumpling or vegetables, inside soups and as sandwiches, kielbasa makes an appetizing breakfast, lunch, or dinner.
For the purpose of recipes explored here, our focus is on baked kielbasa or oven dishes. You'll find them fascinating. Feel free to try out the recipes and share the outcome in the comment section.
Baking Kielbasa
Regular kielbasa and Biala are the kinds that you can bake. While you can bake Zwyczajna directly because it is slightly cured, Biala needs to be cooked before you bake it. Biala is the raw form kielbasa.
When you're cooking your Polish sausage, you need some wide pot or pan that can take the sausage form freely. If the pot you have isn't wide enough, that's okay. Cut the sausage in 2 or 3 parts. It's always preferred to bake your sausage in links before cutting it up if you're using it in a recipe that requires chopped kielbasa.
Now, first put the sausage link in the pot and add enough water to have the link submerged. Turn up the heat on your stove to high until the sausage is boiling. Bring it down to low heat to let it simmer for about 30 mins uncovered. Dip your instant-read meat thermometer in the simmering and when it's 168 degrees F, you're ready to brown it in the oven.
Baking kielbasa, you need a baking dish that can freely take the link. Otherwise, cut it in two or three equal parts. The baking dish should sit in the oven center, uncovered, for a perfectly baked link.
Set your oven to heat at 325 degrees F. Flip continuously with prong within 5 mins interval. The link should be cooked within 20 mins. Use your instant-read meat thermometer to check if the sausage has cooked to 160 degrees F. Let it sit for a few minutes and serve with your preferred dish.
You can bake kielbasa with vegetables like carrots, onions, asparagus, or potatoes. Serve the sausage by itself as a snack or dessert. It's perfect for cooks with a few or single mouth to feed since a link may serve only 3 average eaters, depending on how you serve it.
Video: How to Cook Kielbasa in the Oven
Watch this video to see how to bake kielbasa in oven
Baked Potato and Kielbasa Recipe
These two bake together in the same pan, within the same time. Before serving, you'll need to dice your sausage into quarter-inch cubes for the sake of this dish. The ingredients are easy to get and work with. This dish serves as the ideal easy baked dinner every family can plan into their week.
What you Need
4 potatoes (large ones, cut up)
1 lb. of kielbasa
1 cup of cheddar cheese (extra sharp)
3 tablespoons of olive oil + 1 tsp
2 tablespoons of minced onions
1 teaspoon of paprika
1 teaspoon of garlic powder
½ teaspoon of salt
Time Estimate
Preparation Time             10 minutes
Cooking Time                     45 minutes
What to Do
Cover a mid-sized baking pan with aluminum foil. It's best to use a lipped pan. Oil the pan with the spoon of olive oil and set it aside.
Wash your potatoes and cut them into half-inch cubes. Put the slices in a big bowl and add your kielbasa, garlic powder, olive oil, and salt. Toss the contents until they are properly mixed.
Turn the contents into the baking sheet and spread them out. Top with the paprika and put in the oven to bake for approximately 45 minutes. Turn the components after 10 mins to help the sausage and potatoes cook well on all sides. Remove the sausages after 20 mins and place them on a flat surface to dice. Hold down with prong and return to the baking dish after cutting them into quarter-inch slices.
The dish is ready when the potatoes are soft, and sausage is brown. Top with cheese and bake for another 5 mins (cheese should be melted).
You're ready to serve.
Baked Kielbasa and Beans Recipe
You have to cook these two separately. Bake the sausage first because you'll have to add it to the beans later. It takes a couple of hours to prepare this food, but they come out great for lunch, especially on those awesome summer days.
What You Need
1 lb. of kielbasa
1 can of baked beans
¼ cup of brown sugar
¼ tsp of black pepper
1 bell of green pepper (diced)
½ onion (diced)
¼ cup of Chili Sauce
1 tbsp of olive oil
Time Estimates
Preparation Time             5 minutes
Cooking Time                     2 hours 30 minutes
What to Do
Begin with baking your sausages. Add half of the green pepper and olive oil into the baking dish and toss through. Bake them at 325 degrees F for 20 minutes. Flip the sausages every 5 minutes to ensure they cook evenly. Cut the sausage in ½-inch slices when they are ready.
To prepare your beans, set your oven to heat at 300 degrees F. Combine your baked beans, brown sugar, black pepper, chili sauce, and remaining green pepper in a Dutch oven. Put the Dutch oven in your preheated oven and cook for an hour 45 minutes. Stir every 30 minutes. Add your sliced sausages after an hour 30 minutes and stir in completely.
Food is ready when the content of your Dutch oven has thickened properly and evenly. Let it cool for 15 minutes, then serve.
Baked Kielbasa and Pierogies Recipe
Mashed potatoes and cheese in a pocket baked along with kielbasa is an amazing way to unlock all the greatness in an easy baked dinner. The ease and freedom to multitask that the meal affords make it a worthy choice of busy weekday nights. Make some appetizing crisp-end pierogies with kielbasa in one sheet. Everyone and you will be happy with the outcome.
A bit of bell peppers and onions fill your home with an inviting aroma of baked food. You can serve these alone or add them to well-made coleslaw for the best dinner.
What You Need
24 pierogies (freezed)
1.8 lbs. kielbasa
2 bulbs of diced onion (mid-sized)
2 bell peppers (large, stripped)
1 tbsp of chili powder
½ tsp of ground black pepper (fresh)
2 tbsp of canola oil
1 tbsp of olive oil
½ tsp of onion powder
½ tsp of garlic powder
1½ tsp kosher salt
2 tsp of tabasco
Grainy Dijon mustard (optional)
Time Estimate
Preparation Time             10 mins
Cooking time                      30 mins
What to Do
Get a large baking sheet and spray some cooking oil over it. Divide the sausage links to 6 inches each. Lay them carefully on the edges of the sheet. The idea is to have enough space in the center for pierogies when you're ready.
Next, get a big bowl and combine your bell peppers, olive oil, onions, black pepper, and ½ tsp of kosher salt. Drop the onions mixture on the baking sheet as well using tongs. Spread them close to the kielbasa, using them as your edge.
Set your oven to heat at 400 degrees F. Put your pierogies in this big bowl. Add the tsp of kosher salt, canola oil, chili powder, tabasco, garlic powder, and onion powder to the potatoes casing. Toss them all together and lay the pies on the sheet. Make sure no one is touching the other. Also make sure they are sitting entirely on the sheet's surface.
Put your baking sheet in the preheated oven and bake the content for 15 mins. Bring out your baking pan and flip the pierogies. Place them back and bake another 15 mins. The pies should now be puffy, slightly browned at the edges. The kielbasa should be properly browned with the onions and pepper tender and crispy.
Your food is ready. Prepare some coleslaw and serve them together.
Baked Kielbasa in Beer Recipe
Host a party and show everyone your new kitchen craft. This beer-baked kielbasa is combined with onions, sauerkraut, and apples to make an appetizing meal. It's made in one dish and prepared in less than 10 mins. Even though it takes a while to cook, you don't have to baby sit it. Pop into the oven and continue with the task of the day.
What You Need
1 lb. of kielbasa
16 oz. of sauerkraut
12 oz. beer (make sure it's not dark beer)
3 medium potatoes
1 mid-sized onion (thinly sliced)
2 bay leaves
1 tbsp of Dijon mustard + more
½ tsp dried thyme
½ tsp of pepper
1 tsp of salt
Horseradish
Time Estimate
Preparation Time             10 mins
Cooking Time                     1 hr. 30 mins
What to Do
Wash your potatoes. Peel and dice them. If you're using canned sauerkraut, rinse them first.
Prepare your beer sauce. Get a regular baking pan that will take all the ingredients comfortably. Put the beer, bay leaves, thyme, Dijon mustard, pepper, and salt in the pan and combine thoroughly. Follow with the apple slices, onion, potatoes, kielbasa, and sauerkraut. Incorporate all properly. Seal the baking pan with aluminum foil.
Set your oven to bake at 350 degrees F. Place the sealed pan in the middle rack to bake for an hour 15 mins. Remove the seal from the pan and bake for the remaining 15 mins. (Skip this if you don't want your sauerkraut browned).
Combine one part horseradish with one part mustard to make some sauce dip for your kielbasa. Serve. Just the way you love to.
Check out these articles…
Baked Tomatoes with Stuffed Kielbasa Recipe
Stuff eggs and kielbasa in tomato skin for a great breakfast. This recipe allows you to garnish your sausage with cheese. You'll have creamy baked tomato that is healthy and filling. Recreate the limits of your taste buds with these unique morning omelets.
What You Need
9 eggs (large ones)
10 firm tomatoes (large ones)
10 slices of cooked Biala (White kielbasa, 1-inch thick)
¼ cup of onion (finely chopped)
½ cup of sharp cheddar cheese (shredded)
¼ tsp of black pepper
1 tsp of hot sauce
¼ cup of half-and-half
1 bulb of garlic (chopped)
1 tbsp parmesan cheese (grated) + ¼ cup
Salt
2 tbsp of basil leaves, fresh parsley, and chives
Time Estimate
Preparation Time             15 mins
Cooking Time                     30 mins
What to Do
Create a hole in your large tomatoes, enough to take egg and sausage filling. Line your cooking table with paper towels and turn the tomatoes on them to drain.
Get a baking sheet ready by lining it with aluminum foil and spritzing with cooking spray. Set it aside while the tomatoes drain.
Set a large dish on the table. Put your eggs and whisk them. Put in half-and-half, onion, garlic, pepper, 1 tbsp of parmesan cheese, hot sauce, cheddar cheese, and salt (to taste). Mix them thoroughly. Turn on your oven to heat at 350 degrees F.
Upturn the tomatoes into the baking sheet and spoon your egg mixture into each.  Add a slice of sausage to each tomato. Place the sheet in the heated oven and bake for about 30 mins. The egg when a knife or toothpick inserted in it comes out clean.
Remove from the oven and place on a plate. Top with parmesan cheese, chives, fresh parsley and basil leaves. You're ready to serve. Enjoy your breakfast.
Baked Kielbasa Pasta Recipe
You'll wonder why this is called baked kielbasa pasta when three-fourth of the cooking is done on the stovetop. Well, topping an entire pot of pasta with cheese and baking it to seal in the flavor is enough to name it baked. Create an amazing family dinner with this recipe that'll fill your whole house with its special aroma way before you're done. Everyone will be waiting at the door for their share.
What You Need
4 cups of macaroni
2 cups of while mushrooms (coarsely sliced)
1 smoked kielbasa link (sliced)
4 bulbs of garlic (chopped)
1 mid-sized white onion (chopped)
1 pasta sauce
¼ tsp of ground cinnamon
¼ tsp of dried basil
¼ tsp of dried oregano
Grated mozzarella cheese
Pepper
Salt
Olive oil
Time Estimate
Preparation Time             5 mins
Cooking Time                     45 mins
What to Do
Follow the cooking directive described on the package to cook your pasta. Drain it when it's slightly tender to bite. Keep it aside.
Set an oven-friendly saucepan on the stove with the olive oil. Heat slightly and add your garlic. Sauté till it's soft then add your white onion. Add your cinnamon when the onion is properly sautéed.
Turn in your mushrooms when you can smell the cinnamon in the air and add some salt. Sauté till the mushroom is slightly wilted and producing its own liquid. Let the liquid dry up a bit before stirring in your smoked, sliced sausage. Let the sausage cook till its size reduces (and the fat is rendered) then add your pasta sauce. Stir the content.
Next, put the dried basil and dried oregano in the saucepan. Cook the content to bubbling point then season with pepper (lots of it) and salt. Turn in the pasta (cooked) and combine thoroughly. Turn off the heat.
Set you oven to heat at 356 degrees F. Top your pasta with a lot of grated mozzarella cheese. Now put your oven-safe saucepan with content in the heated oven. Let it bake for 20 mins. Your pasta is ready when the cheese melts and forms a crust on top that is golden brown.
Let the pasta sit for 5 mins after oven time then serve with some fresh-made salad. Have a fabulous pasta-kielbasa meal.
How Do You Cook Your Kielbasa in the Oven?
Of course, the dishes that you make with baked kielbasa are not exhaustive. How do you cook yours? Share your culinary idea or tell us how these dishes came out in your kitchen. Kielbasa is an interesting version of sausage with interesting spice infused in it. As vast as the spices reach, the ideas that it births go.
Most kielbasa recipes can be prepared by replacing this Polish sausage with any other sausage of your choice. So, don't despair if need to fix some quick recipe and all you've got in the refrigerator is regular sausage. Get moving, get creative!