Do you know how to cook crab cakes in oven? But who cooks crab cakes in the oven? Well, anyone who loves all of that crab cake goodness but detests the entire dipping in hot oil. Interesting thing is that you can bake, and you can also broil crab cake in the oven. Even premade crab cake can be baked in the oven instead of frying it in all of that fat.
Broiled Crab Cakes Recipe
This recipe is for those that enjoy very crispy crab cakes. You'll prepare the cakes the same way you'll prepare them if you were to fry in oil or bake with regular heat. The baking difference here is that you'll bake with two temperatures.
The low temperature will allow the crab cakes to cook inside while the second temperature will crisp them. When you broil the crab cakes, place them at some distance from each other. The cakes will get mushy if they stay too close to each other.
The best quality of crab meat to use when making your crab cakes in the lump crab meat. The recipe described is easy for anyone to follow. The cakes come out flavorful, so you'll want to repeat the process. You may want to tweak yours if you are that adventurous.
What Ingredients Do You Need?
Lump crab meat               1 pound
Mayonnaise                       ½ cup
Large egg                             1
Italian style breadcrumbs     ½ cup
Tarragon                              1/8 tsp
Old bay seasoning           1 tsp
Worcestershire Sauce     1 tsp
Garlic powder                   1/8 tsp
Dried parsley                     1/8 tsp
Dijon mustard                   ½ tsp
Salt                                         ¼ tsp
Pepper                                 ¼ tsp
Butter                                   2 tbsp
How Long Will It Take?
Preparation Time             10 mins
Cooking time                      15 mins
How to Prepare the Broiled Crab Cakes
Step 1
Turn on the broiling coil of your oven and set it at low. Place the rack in the middle section so that the crabs are not too close to the heat and dry out.
Step 2
Get a mid-sized bowl to mix in your ingredients. Put in your mayonnaise and egg, then whisk them thoroughly. Put in the breadcrumbs, tarragon, garlic powder, old bay seasoning, Dijon mustard, parsley, Worcestershire Sauce, pepper, and salt. Combine them properly.
In another big bowl, put your lump crab meat. Check to make sure that is no shell in your bowl of crab meat. Then throw in your mixture gradually – bit by bit – stirring carefully as you go.
You don't want the lump to get broken in the process of the stirring. When the crab is properly combined with your mixture, mold your cakes. You should have 6 (six) cakes from this recipe.
Step 3
Get a baking sheet and oil it lightly with cooking oil. If you prefer to use cooking spray, that's fine too. Arrange your crab cakes on your baking sheet with some space between. Then top the cakes with a quarter of a tablespoon butter one after the other.
Put the sheet in the oven for the crab cakes to cook (this should take about 15 minutes). After 12 – 14 mins, turn your broiler heat higher for 30 sec to 1 min. Anything longer and your cakes might just dry out. They should be golden brown when they are properly cooked.
If your cakes are turning brown faster than they should then reduce the heat of your broiler. You want the insides to cook well before you bring them out.
Step 4
Bring them out of the oven. Set them to cool a little bit then serve with the sauce of your choice.
Baked Crab Cakes Recipe
Have your crab cakes baked at 375 degrees F then enjoy with lemon sauce. This recipe tastes as good as crab cakes from the oil. Interestingly, you need just your jumbo lump crab meat with a few more ingredients to make this delicious cake meal. Freezing the crab cakes is the reason they last longer in the oven. There's no need to thaw.
What Ingredients Do You Need?
Jumbo lump crab meat (fresh)                   16 ounces
Minced garlic                                                  3 bulbs
Chopped shallot                                               1
Egg white                                                           1
Mayonnaise                                                     ¾ cup + 2 tbsp
Salt                                                                     ½ tsp + little more
Crumbs of cornflake                                      ¾ cup
Lemon juice                                                     2
How Long Will It Take?
Preparation Time             10 mins
Marinating Time               60 mins
Cooking Time                     30 mins
How to Prepare the Baked Crab Cakes
Step 1
Put your garlic and shallot in a small skillet and fry for 5 mins on low heat. Get down the skillet when the ingredients are soft and leave them to cool a bit. Take a baking sheet and cover it with parchment paper.
Step 2
Put 2 tbsp mayonnaise, egg white, cornflake crumbs, salt, and crab meat in a big bowl and combine them properly using a fork. Break up the crab meat a little and gradually to ensure you have a mixture that is integrated properly. Add a little more mayonnaise if you have a dry mix but if it's overly wet, stir in corn flakes crumbs gradually.
When you're done combining the mixture, throw in your fried garlic and shallot. Mold a handful for each crab cake then arrange them on the baking sheet. Refrigerate them for 60 mins at most them set for heating.
Step 3
Set your oven to heat at 375 degrees F. Bring the cakes out from the fridge and put them in the oven. Bake them for a max. of 20 mins then flip turn on the other side and bake for 10 more mins. Bring them out when they are golden brown, prepare your lemon sauce and serve them together.
Preparing the Lemon Sauce
In a little bowl, stir in ¾ cup mayonnaise and lemon juice till they are combined to your taste. Put in as much salt as you'll like (be careful not to over-salt). Your lemon juice is ready.
Check out these articles…
Video: How to Cook Crab Cakes in Oven
Watch this video to see how to cook crab cakes in oven
Baked Premade Crab Cakes
If you have premade crab cakes, you don't have to go through the entire process of mixing your own meat and fillers to create the cakes. Just pick the shapes and toss them in the oven. Then serve them the way you love to.
The premade cakes you buy should have good quantity of crabs in them, even if they're frozen. If you have more filler and breadcrumbs than you have crabs in your cake, then there's a problem. The cakes will smell and feel more like a pastry.
Besides, well prepared pre-made crab cakes are expensive when you get them. They may also come as frozen crab cakes or fresh ones. Whichever ones you get, you'll make them in the same way with a time difference. Frozen crab cakes bake linger than fresh ones.
Heat the Crab Cakes Again
To heat your pre-made crab cakes, you need your oven at heat up to 400 degrees F. Oil your baking sheet lightly and put your cakes on it. Make sure they all stand by themselves. Then put the sheet in the oven and bake for approximately 20 mins. When they are golden brown and well cooked, turn on your broiler for 2 minutes (1 for each side).
Bring out the baked crab cakes and serve the way you want to.
Choosing the Right Lump Crab Meat
The crab has different parts that are suitable for different kinds of dishes. Lump meat can be cooked in a meal pasta or crab cake, backfin is best for soups and stuffings, while claw meat is suitable in sauces. Being able to identify good lump meat for your crab cake is crucial in making delicious crab cakes.
The best to buy fresh crab meat is in the months between March and November. When the weather gets colder, the crabs move into deep waters so it's more difficult for fishermen to catch any. If you have a good relationship with fishmongers in your locality, they can tell you when there's fresh crab in supply. Unlike fish, you can't find a farm that's for crabs so it's difficult to keep a steady price on it.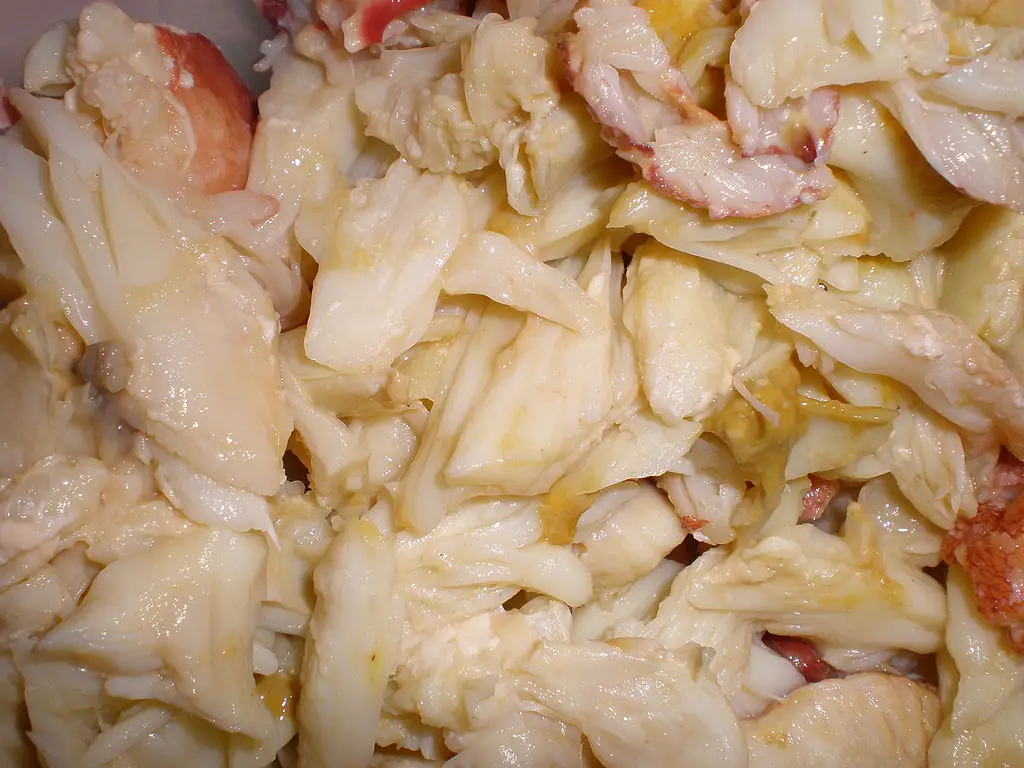 You need to know that different parts of the crab meat have distinctive tastes. Jumbo lump meat is taken from the muscles on its fins it uses to swim. There are two of them on the crab; they taste sweet but are quite fragile. Lump meat are the white parts that are a bit smaller than the jumbo lump meat while backfin is a mixture of meat from lump and other body parts of the crab.
You can consider backfin as the sweetest part of crab meat. If you get canned crab meat, they'll be pasteurized as a measure to eliminate the presence of bacteria so that the meat can stay longer. The downside is that they may also lose their flavor from this process. That's why you are advised to buy fresh crab meat instead.
If you have fresh crab meat, it's okay to refrigerate them. However, you have to eat them up within three days (at most). Canned crab meat lasts longer in the refrigerator if it is not already open. While refrigerating crab meat, do not remove the shell except you are preserving it as a prepared food like casserole or crab cake.  That way, you can refrigerate it for as long as 3 months. Freezing it in the shell or in a filler protects the tenderness.
How to remove the shell:
Removing the shell from crab meat is not so difficult. You need a baking pan and a broiler. Just lay out the meat on your baking pan then put the pan in the broiler. Allow it to broil for 45 sec. so that the shells are bright orange. You can now remove them from the meat.
What Do the Ingredients Do in the Crab Cake?
Every component of the crab cake has a unique purpose it serves in producing a luscious food for you and your loved ones. Crabmeat is the main ingredient, but it needs support to make a good cake. This is a list of the basic ingredients so you can tweak the flavors to suit you.
Cracker crumbs or breadcrumbs: This is the filler in a crab cake. What you prefer will depend on the taste you like. You need the size of the crumbs to be very small so you can break it up with a roller or blend (if that's easier for you).
Egg: If you're thinking of what is responsible for holding the cake together, it's the egg. Your cake won't stay together if it's absent.
Mayonnaise: This ingredient also helps the cake to stay together. The good thing is that you can hardly taste the mayonnaise in moderate quantity.
Herbs: You need herbs to flavor your crab cakes. Fresh parsley, dried parsley, dill, anyone you choose will work out well.
Mustard: The most common variety of mustard used for baked crab cakes is Dijon mustard.
Butter: Put a little butter on top of each cake before placing them in the oven, for good flavoring. If you're using melted butter, brush a little over each cake.
Serve and Enjoy…
It's okay to serve those baked crab cakes with freshly squeezed lemon. You can also serve them with corn on the cob, baked potatoes, dinner rolls or coleslaw. They make very fine family dinner.
Here's a recipe of coleslaw to serve your cakes with.
What You Need
Cabbage                              1 mid-sized
Shredded carrots             3 mid-sized
Salt                                      ¼ tsp
Celery seeds                      1 tsp
Fresh black pepper (ground)       ¼ tsp
Parsley leaves (fresh, large chops)     ½ cup
Mayonnaise                       1 cup
Apple cider vinegar         2 tbsp
Dijon mustard                   2 tbsp
Preparation
Stage 1
Remove the core from the cabbage, then cut them up in fine shreds. Put the shreds in a big dish (big enough to mix other ingredients in it. Put your carrot and parsley into the big dish and mix very well with the cabbage.
Stage 2
Take another dish, put in your vinegar, celery, mayo, salt, pepper, and mustard. Stir them together. Taste to make sure you are comfortable with the mixture then drizzle the cabbage mix with about 2/3 of the mayo mix. Combine all of them properly. If you want the coleslaw a little moister than it is, then add more mayo mix.
Your Coleslaw is ready to be served with the baked crab cakes. Serve right away.
Feel free to share the results in the comment section.