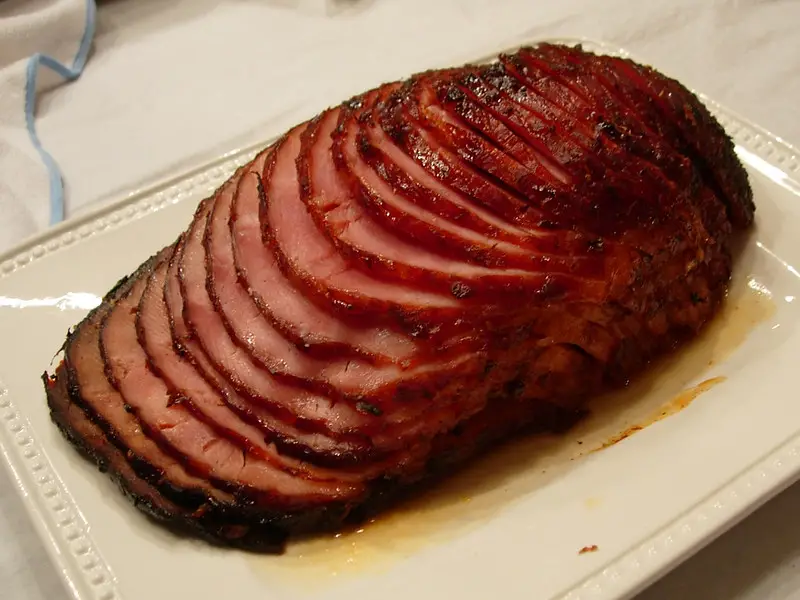 Let's go through the story to provide a background to our ham steak recipe. A little long read it is but infused with information you don't want to miss. If you're an immigrant without so much knowledge about American cuisine, this will definitely benefit you. Even as a citizen seeking more culinary knowledge, you should know how to cook ham steak in oven and a lot more than that.
Where Do Ham Steaks Come From?
If you are a fan of pork and other kinds of pig meat, ham steak is another variety you'll enjoy. Ham is meat that is cut from the upper part of a pig's back legs. It is then marinated in salt so that it can last a long time. But ham is large. Except you're hosting a party, a whole ham will be too much to purchase at once for your family.
That's how we have the ham steak. A round, small portion of ham cut that will be sufficient for you and your family. Maybe we should call it "Family Ham".
The process for preparing ham infuses it with a lot of sweet flavor. That is why ham steaks infuse a strong taste in any dish you put it in. Ham steak can be prepared in a variety of ways and pair with many dishes. We'll be making them in our oven here.
But just before we get down there…
Why Should You Eat Ham Steak?
Health is top on anyone's mind when we eat. No one wants to eat some food and pick up unnecessary levels of calories or other harmful substances. Putting it straight, ham is generally good for the body. The step back is usually against sodium because of the preservation process.
Ham contains quality protein, phosphorus, zinc, selenium, and other vitamins like thiamin, riboflavin, chlorine, niacin, B6, and B12. These nutrients are top in preserving and maintaining various functions in the body. The body needs nutrients like phosphorus in large quantities to help with the regulation of body metabolism as well as developing the bones. Selenium is an important trace element that helps to maintain the thyroid gland.
The amount of fat ham has in a meal depends on how you cook it. Frying ham will leave it with more fat and baking it will leave less fat.
If you have sodium sensitivity (e.g. hypertension), you need to get low salt ham steak. One serving of regular ham steak will deliver nearly all the sodium you need for the day.
Choose the Right Ham Steak
If ham is dry-cured, the flavor is always heavy. They can be smoked or unsmoked. Dry-cured ham steak is raw so you should cook it before you eat. Country ham is dry-cured.
Alternatively, water cured ham has a flavor that is weaker than dry-cured ham. The intensity of the flavor and nutritional value is affected by the quantity of water used for the curing. Water-cured ham is better off with less water. City ham is water cured.
If ham is cured with heat and smoke, it is partly cooked. The purpose of the heat is to kill the parasites and germs in the steak. It's okay to eat partly cooked ham without re-heating them but it's safer to complete the cooking. There are those hams that are fully cooked. You can eat them with any further preparation or otherwise.
Ham that is boneless is cut in oval shapes after processing them, but they often have a bland taste. Bone-in ham is usually tastier than these varieties.
Other qualities you should look out for are how thick the steak is and the date of expiry. A half-inch thick steak will cook fine in a good time. Anything thicker will take more time and effort. Anything thinner may burn if you don't watch it closely. Steak that is labeled to expire within one week is best not consumed at all.
Best Kind of Side Dish for Ham Steak
Since ham steaks have high salt content, the best dish to pair them with is those that have low salt content. The ham will share their saltiness with the dish and create a balance.
If you're baking sweet potatoes or cooking green beans, ham steak will be a good addition. Another good addition is asparagus. As a sandwich, put your ham steak in wheat bread that has low salt and high fiber.
Make sure that whatever side dish you are adding has more fiber and less salt.
We're ready to cook our ham steak in the oven now!
General Procedure to Bake Ham Steak
Ham steak can be prepared in one major method with a lot of tweaks. Ham glaze, for example, has different flavors and ingredients. So, the taste your ham has after the kitchen rendezvous depends on the flavor you introduce at the point of preparation.
You need salt, pepper, cooking oil, and glaze to make your baked ham steak. Heat the oven to heat at 350 degrees F. Prepare your baking pan by rubbing light oil on the sides and bottom. On the ham steaks, brush your glaze after placing them on the shallow baking pan. Brush both sides of the steaks in glaze. While baking your steak, you can continue glazing your steak all through the baking process.
Baking the steaks take approximately 25 minutes. You can tell a cooked ham steak from the brown edges when every part is properly heated. Unsmoked ham will take longer to cook because they aren't cooked at all.
When the ham is ready, glaze again and serve them hot. If you have leftovers from the meal, store them in the refrigerator. Leftover ham steak will last up to 3 days if stored well.
Video: How to Cook Ham Steak in Oven
Learn to cook ham in the oven with this video
This is a template. The most basic baked ham steak you can make from your kitchen. It already sounds yummy. Think of all the wonder we can create with a little more imagination. Dinner and breakfast are just about to take a great turn in your food studio. So, come along…
Oven-Baked Ham Steak and Barbeque Sauce
Baste your ham steak in barbeque sauce (get Stevia Sweet BBQ Sauce if you're on a diet) and ketchup to make the perfect moist, yummy baked steak. It takes about 10 mins to prepare the sauce used to cook the steak in this recipe. You can include chopped green beans when you sauté the onions for a mouthful variety. Serve along with baked potatoes or baked beans.
What You Need
1 ham slice (fully cooked, 1" thick)
1 tbsp of butter
1 tbsp of Worcestershire sauce
2 tbsp of packed brown sugar
2 tbsp of apple cider vinegar
3 tbsp of lemon juice
½ tsp of kosher salt
¼ tsp of black pepper (just blended)
½ cup of tomato ketchup
¼ cup of diced onions
1/3 cup of water
Time Estimates
Preparation Time             15 mins
Cook Time                           30 mins
What to Do
Set the ham.
Begin with preheating your oven to 350 degrees F. Get a baking pan with a lipped border and grease it lightly using your nonstick cooking spray. Set your ham steak in the pan and set aside.
Next, get your saucepan and put the butter in it. Set the heat on your cooktop at medium-low and place the saucepan. When the butter has melted, sauté onions. It's done when the onion is translucent. Now turn in your water, ketchup, lemon juice, Worcestershire sauce, vinegar, brown sugar, pepper and salt to the sautéed onion and stir. Blend properly and leave it for 2 min (or till the sauce has heated well). This is your homemade barbeque sauce.
Takedown the sauce and throw it on the ham. Place the pan in the oven and bake for approximately 30 mins. Bring it out and serve hot.
Accompanying Dish: Roasted Potatoes Recipe
This roasted potato dish is a great accompaniment for your baked ham. Serve a complete dinner with this easy-to-make roasted potatoes. You can make them alongside the potatoes to save time.
What You Need
2 tbsp of butter
28 ounces of Potatoes (half each)
½ tsp of Thyme
½ tsp of salt
¼ tsp of ground black pepper
Time Estimates
Preparation Time             5 mins
Cooking Time                     15 mins
What to Do
Make sure your potatoes are washed and dried. Set your oven to preheat at 400 degrees F. Get your baking sheet with lipped edge, lay it with a foil and oil it.
Place a large skillet on medium-high heat to melt your butter. Put in the thyme, pepper, salt, and potatoes and toss. After 10 mins of sautéing the potatoes, turn it into the set baking sheet. Put it in the oven for 15 mins until it is well roasted.
Serving. In a serving dish, place your roasted potatoes and barbequed ham steak side by side. Let your guests enjoy fresh and hot.
Baked Milk Ham Steak Recipe
This amazing recipe requires only 4 ingredients to make the most appetizing baked ham steak. The ham is uncooked and will take a longer time to cook compared to pre-cooked ham. Serve this dish with a luxurious plate of creamed spinach for a homely holiday dinner.
What You Need
1 slice of ham steak (1" thick)
2 tsp of dry mustard
Whole milk
¼ cup of brown sugar
Time Estimate
Preparation Time             10 mins
Cooking Time                     60 mins
What to Do
Get a slightly deep baking pan (deep enough to take 1" ham steak) and oil it lightly. Set your ham steak on a flat dish and rub in the dry mustard on both sides. Put it in the baking pan and spread the brown sugar over it. Make sure all the top part is covered well. Set your oven to preheat at 350 degrees F
Pour the milk into the sides of the steak in the baking pan. Don't pour the milk on the top part of the steak so that the brown sugar doesn't melt or slide off.
Next, place the baking pan in the heated oven and leave it for an hour. After 50 minutes, remove the pan from the oven and sauté the ham with the milky solution. [If you have un-melted brown sugar sitting on the ham, the liquid will help melt it. Then, the ham will glaze properly]. Replace the pan and continue baking.
Check for doneness and take it out from the oven when it's ready. Next, make your creamed spinach.
Savory Creamed Spinach
This recipe is easy to make with only 4 ingredients. Yet it has a rich luscious taste that'll make you crave it over and over.
What You Need
2 lbs. of baby spinach leaves (wash them)
½ cup of cream (heavy)
½ stick of butter
¼ cup of parmesan cheese (grated)
Kosher salt
Black pepper (freshly ground)
Time Estimate
Total Cook Time                30 to 40 mins
What to Do
Set your stove at medium-high heat and place your spinach leaves to steam in a Dutch oven. Spinach leaves will produce their own water when boiling. Stir the leaves as they cook. After a few minutes, the spinach volume will reduce, and the color will lighten. Turn the cooked spinach into a big bowl of ice water to stop the cooking then drain and squeeze it out.
Set another burner at medium heat and simmer your cream. The cream should reduce a little bit. Next, blend your spinach smoothly and put it back in the Dutch oven. Put in your butter, grated parmesan cheese, and cream then boil on medium heat. Keep stirring the mixture until it's hot. Add salt and pepper to taste. Food is ready.
Serving. Dish your Creamed Spinach and baked ham steak. Serve the party and have fun eating!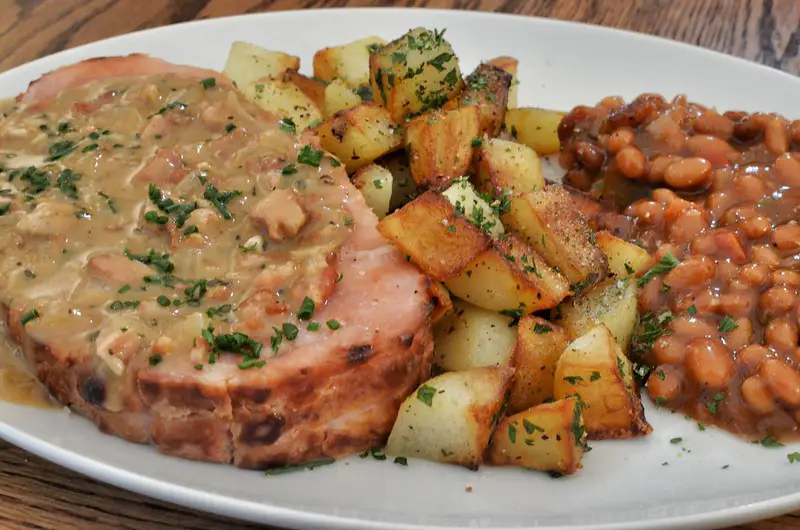 Check out these articles…
Sugar-Glazed Baked Ham Steak
If you're cooking salt-cured ham steak, this sugar-glazed recipe will help balance out the saltiness in your ham. The resulting steak is nicely crusted and sweety spicy. Prepare your glaze with brown sugar and mustard in a mixture that is easy to make. Your baked ham will be ready in 30 minutes. Serve with Green Bean Casserole.
What You Need
2 lbs. of ham steak (1" thick, pre-cooked)
1 cup of brown sugar (firmly packed)
¼ cup of Dijon mustard
2 tbsp of cider vinegar
½ tsp of ground cloves
Time Estimates
Preparation Time             10 mins
Cooking Time                     20 mins
What to Do
Start with setting your oven to heat at 350 degrees F. Set a baking pan and put your ham steak in it. Set it aside.
In a dish, mix your vinegar, cloves, mustard, and brown sugar together. Make sure the sugar is dissolved as much as possible. Drizzle the glaze on the ham steak when you are done.
Now put the baking pan in the oven and leave it to bake for approximately 20 minutes. Do not cover the pan. Remove the steak when it is properly heated.
Serve hot with the side dish.
Green Bean Casserole Recipe
Families that value food tradition during the holidays place green bean casserole ahead on the list. Whether you eat it freshly made or as leftovers, serving this dish with ham steaks is pure palate pleasure. This recipe is made with mushroom soup, green beans, onions, and cheese.
What You Need
4 cups of green beans (cut)
½ cup of milk
1.5 cups of onions (fried, crispy)
1 cup of cheese (sharp cheddar)
10 oz. mushroom soup cream
1 tsp of soy sauce
½ tsp of black pepper
Salt (to your taste)
Time Estimate
Preparation Time             10 mins
Cooking Time                     40 mins
What to Do
Start with boiling your beans in a pot till it is crisp-tender feel. If you are using fresh green beans, great. If the beans are frozen, be sure to defrost them before you cook.
Now, turn on your oven to heat at 350 degrees F. Then mix all the ingredients in your casserole dish.
Put in your mushroom soup, soy sauce, green beans, cheddar cheese, fried onions (1 cup), and milk to the dish and mix them together.
Put the dish in the oven without covering it and leave to cook until it is bubbly. This will take 35 mins approximately. Take it out from the oven, stir and add the leftover onions to the top. Place it back and let it cook till it's golden.
Your Green Bean Casserole is ready. Get your baked ham, it's time to serve.